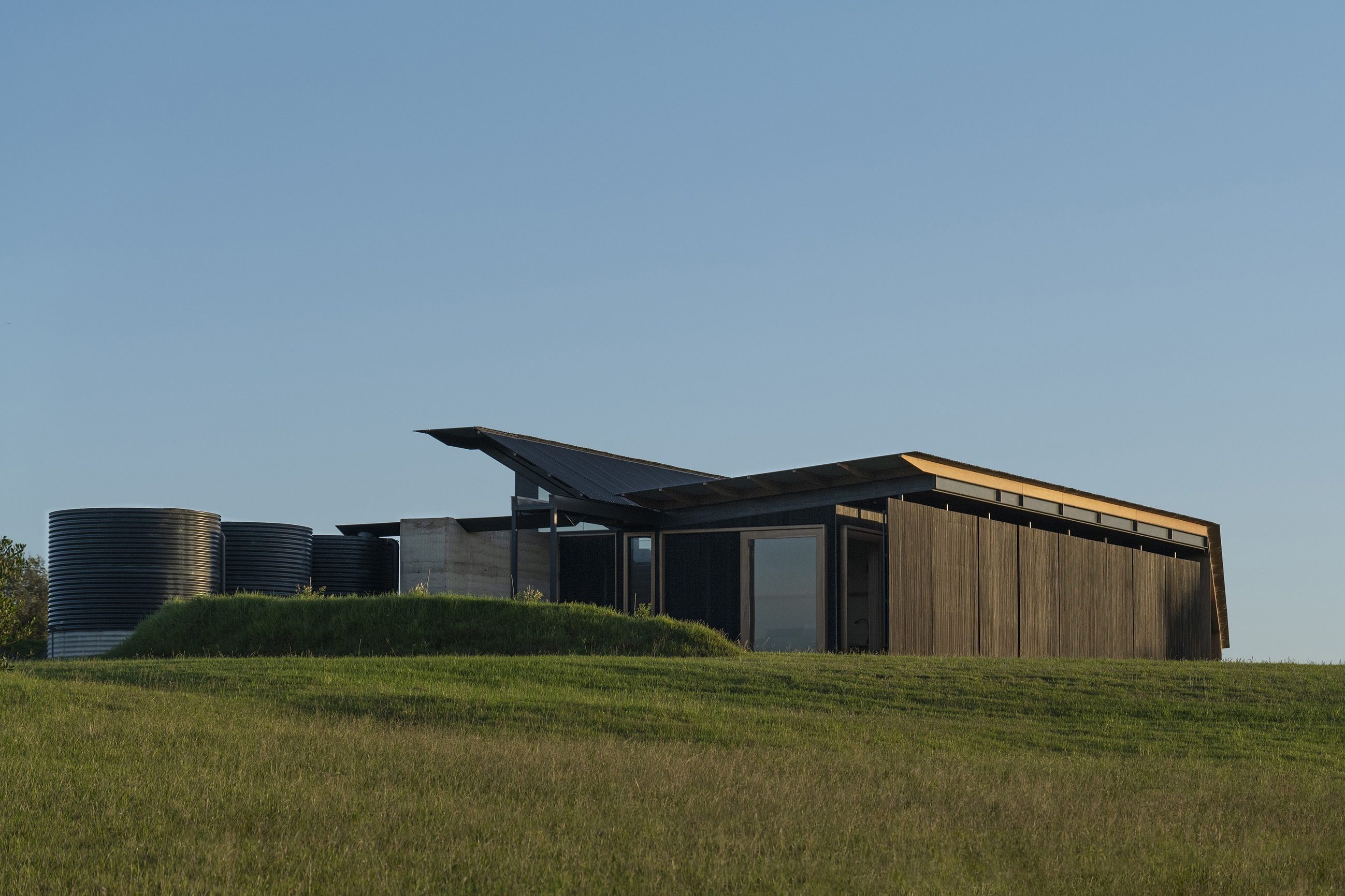 Mystery Bay House is located on a peninsula flanked by coastline, national park, and a lake. Looking west across the lake is mount Gulaga, a sacred Yuin place. The building is orientated on an axis with this mountain.


A long pavilion set on a grass platform, the home is equal parts outdoor and indoor. The plan cranks 18-degrees to follow the natural contours, sinking it into hillside.


The roof pitches steeply to the east to catch the colour from the morning sky, and gently to the west to frame the panoramic views of the lake and rolling countryside. The northern and southern ends taper to a feathered edge, inspired by the wings of the local wedge tailed eagle. V gutters and corrugated tanks celebrate the rainwater harvesting


A thick rammed earth spine to the east anchors the building to the site. Its thermal mass, together with the concrete floors, passively heat and cool the home year-round. At sunset and sunrise, four oblique openings allow shafts of sunlight to pass through the building, like a giant sundial.


Because the building is oriented west for the view, an operable wall can transform from fully open to the landscape, to closed and protected from sun and cold winds off the lake. For the living spaces there is a long sliding door and screen track. For the sleeping quarters, pivoting screens can be manually rotated for varying degrees of daylight and privacy. When low afternoon sun passes through the timber battens, a beautiful, dappled light fills the house.


Mystery Bay House is off-grid: generating all power and collecting all water on site.
Country: Djiringanj, Yuin
Architects: Jack Hawkins with Rob Hawkins
Structural Engineer: Ron Hawkins
Carpentry: Drakos Bros Constructions
Joinery: Trubuilt
Doors & Windows: Acacia Joinery
Rammed Earth: Earth Structures
Architectural Steelwork: Craig Hurst
Structural Steelwork: Sable Engineering
Concrete: Spaghetti Concrete
Photography: Kate Hawkins
Completed: 2020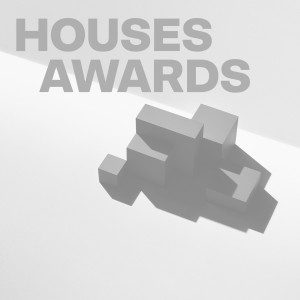 2021 HOUSES Awards
Commendation - New House over 200m2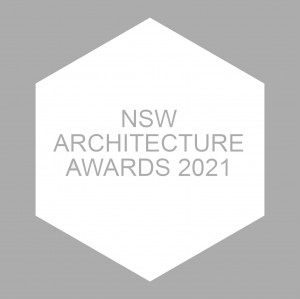 2021 NSW AIA Architecture Awards
Commendation - Residential Architecture - Houses (New)